Finally a waterbike that actually looks and rides like a road bike with stable-rudder technology and a maintenance-free gearbox to provide stability and years of enjoyment.
Starting at
$

3,999

$2,999.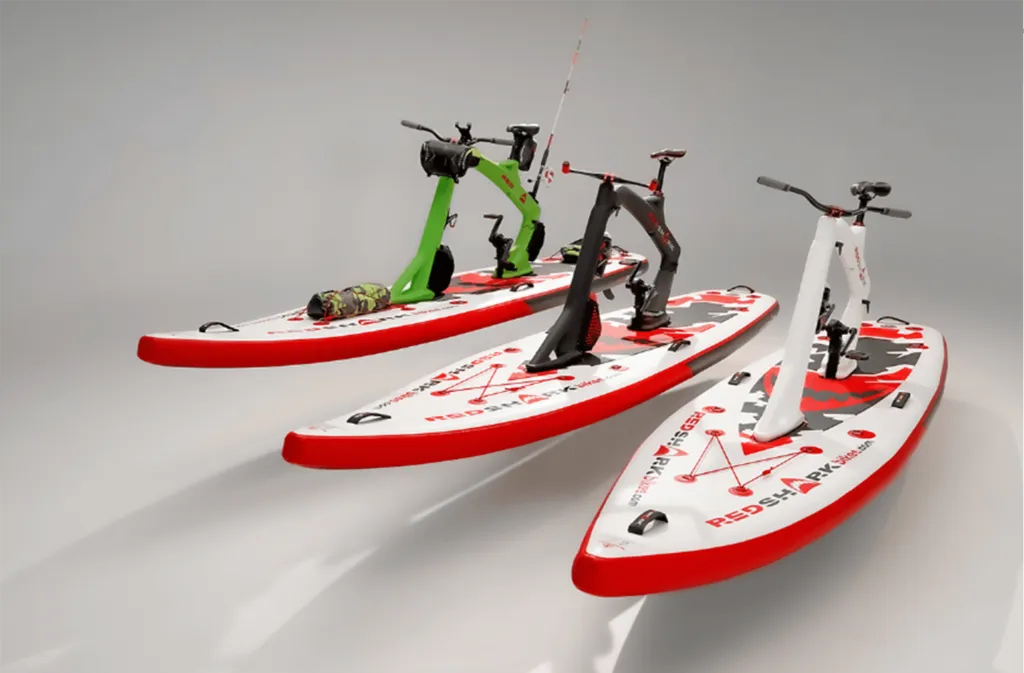 Key Features:
Inflatable and extremely durable
Can be used as a water bike or converted into a stand-up paddleboard
Constructed of top-grade materials and fiber-reinforced
Built-in anti-roll stabilizers and stable rudder system
Flat premium-grade inflation system
Aluminum handlebar with ergonomic hand grips
Removable fin for easy storage and transport
Saddle gel comfortable seat for extended use
Discover the Red Shark Bike, the perfect blend of water biking and stand-up paddleboarding. Designed in Spain, this innovative watercraft lets you enjoy your time on the lake like never before. It's suitable for kids and adults alike, making it the perfect addition to your family's water adventures.!
Designed for Stability and Comfort:
The Red Shark Bike is constructed using high-quality materials and designed with stability and comfort in mind. The built-in anti-roll stabilizers and rudder system provide a smooth and stable ride on the water, while the ergonomic hand grips and comfortable gel seat ensure a pleasant experience for riders of all ages.
Versatility for the Whole Family:
Whether you're looking to get some exercise or simply explore the lake, the Red Shark Bike has you covered. Easily switch between water bike mode and stand-up paddleboard mode, offering endless possibilities for fun on the water.
Premium Design, Made in Europe:
Designed in Spain and manufactured in Europe, the Red Shark Bike uses top-quality materials and components from Germany, Italy, and other European countries. This ensures the best quality product for you and your family to enjoy.
Experience the Red Shark Bike Today:
Are you ready for a one-of-a-kind water adventure? Don't miss out on the Red Shark Bike, the ultimate inflatable water bike and paddleboard experience. Embrace the freedom of aquatic cycling and enjoy the outdoors like never before.